Paul's New Computer
(Pics link to larger images.)
Specs:
Dell XPS 630i
Intel E8400 Core2 Duo Processor, 3GHz, 6MB cache

4GB

8GB DDR2 SDRAM at 800MHz
Nvidia GeForce 9800GT Graphics Card
3x 1TB SATA Hard Drives, 64MB Cache
750W Dell Power Supply
That's the meat of it.
It came with XP Pro installed and one hard drive, so the first thing I did was put in the second and third hard drives and install Linux Mandriva 2009 64-bit on one so that I could get up and running. Then after partitioning the original drive into two fifty gigabyte NTFS partitions and one huge Linux partition, I installed the copy of Vista Ultimate that came with the computer on the partition after XP Pro. Then I installed Kubuntu 8.10 on the third drive, just to play around with it. So now this system quadruple-boots to either Mandriva 2009, Kubuntu 8.10, Windows XP Professional, or Windows Vista Ultimate.
Here's the inside – the pic links to a larger one with labels.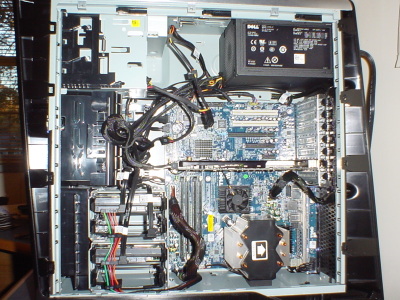 Here are my two Acer 19" monitors showing my KDE 4 desktop: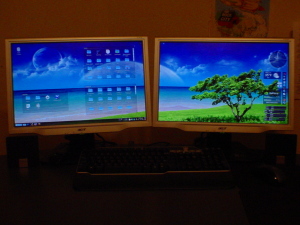 Note that the areas on the left monitor that look like file browsers opened in separate windows are actually applets - part of the desktop. KDE 4 is a trip!
Here's a screenshot of the whole desktop. There are no open windows or shortcut icons on the screen.
UPDATE - October 2009
My 19" Acers have been replaced by two 24" Dells: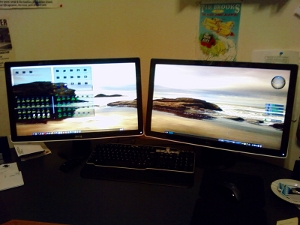 Here's a screenshot of my current desktop setup. I think it looks nice. This is both screens, each set at 1920x1080, for a total resolution of 3840x1080. The wallpaper is swiped from a Vista installation and stretched to fit.

© 2006 - 2017 Thomas Computer Repair · PO Box 463 · Perry, GA 31069
478.777.3201 c or 478.244.3355 c
Valid
HTML 5
and
CSS 3