Website Design
Other sites I've made:
All my sites are created by hand-coding - without using tools such as Frontpage or Dreamweaver - with an emphasis on semantic markup and clutter-free design. This results in clean code that will load faster and more consistently across all browsers and platforms. All feature CSS-based layout for compatibility with future browser versions and easy maintainability. What does all that mean? That any site I make will look consistent, whatever web browser you use. (Except for Internet Explorer 6 and under - I don't code for that browser any more. See here.).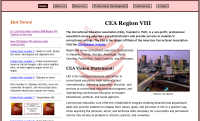 Website for the Correctional Education Association, Region VIII. Includes a phpBB installation that is customized to fit seamlessly into the site design.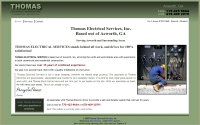 Website for an electrical business in Acworth, GA. Clean and simple to use. I copied an olive green color from his business card and used it as the color base for the site. Flexible layout, as opposed to fixed-width. CSS based, very clean, semantic code. A very robust design, yet easy to work on.
© 2006 - 2018 Thomas Computer Repair · Perry, GA 31069
478.777.3201
Valid
HTML 5
and
CSS 3